Memorial Site App
Apart from practical tips on how to get here, visiting hours, and service facilities, the app also provides information on all the services and programs offered by the Memorial Site dealing with the location and its history. The app provides information on the main exhibition in the former maintenance building (museum) and the exhibits in the former camp prison ("bunker") and the reconstructed barracks. Memorials in the vicinity of the Memorial Site are also included in the app, such as the former SS experimental farm ("Herb Garden") or the former "SS Shooting Range" in Hebertshausen redesigned in 2014.
"The Liberation AR" augmented reality app
"The Liberation AR" harnesses augmented reality to help people to experience what actually happened when Dachau Concentration Camp was freed. The app guides the visitor around some of the Dachau Concentration Camp Memorial Site via their own smartphone or tablet, often positioning parts of original photos of the liberation at the exact spots where they were taken. This fascinating expansion of what the visitor can see in front of them is then complemented by audio recordings; these clips give voice to some of the prisoners, liberators and journalists who were actually there, opening up a variety of different perspectives on how that day unfolded.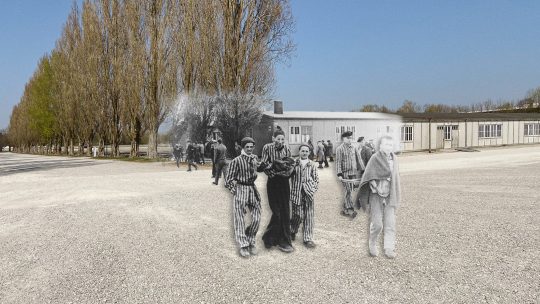 This app-guided tour takes in five stations around the outside of the Memorial Site and lasts about an hour. The bilingual English and German app is available free of charge from the App Store and the Google Play Store. We recommend downloading the app in advance so it is ready to use straightaway once you get to the Memorial Site. "The Liberation AR" is not recommended for use by anyone under the age of 14. You can find more information about the multimedia project "The Liberation", which also includes a virtual tour and a podcast, here.