Evidence for Posterity. The Drawings of the Dachau survivor Georg Tauber
The Bavarian advertising illustrator Georg Tauber documented not only the violent "daily routine" in the Dachau concentration camp but also the arrival of U.S. Army troops and life in the camp after liberation.
The more than 60 drawings were discovered five years ago in the estate of the Dachau camp survivor Anton Hofer and they are being presented to the public for the first time in the exhibition. The works are complemented by watercolors of city views and landscapes Georg Tauber completed in 1941 during his imprisonment and which were smuggled out of the concentration camp by a civilian employee.
The exhibition also looks at the fate of the "asocial" prisoners. Georg Tauber was imprisoned from 1940 to 1945 in the Dachau concentration camp as an "asocial" due to his morphine addiction and the resulting drug-related crime. Persons categorized and persecuted as "asocial", "criminal" or homosexual by the Nazi regime did not receive any compensation from the state after the end of the Second World War. As a consequence of ongoing discrimination, there are hardly any personal testimonies from these victim groups down to the present day. Georg Tauber is a rare exception: in 1946 he co-founded the "K.Z.-Arbeitsgemeinschaft 'Die Vergessenen', an association that actively campaigned on behalf of "forgotten" concentration camp victims but was banned after just a few months.
The special exhibition is financed by contributions from the City of Munich, the Bavarian State Ministry for Education and Culture, Science and Art, as well as the Federal Government Commissioner for Culture and Media. The exhibition will run until February 28, 2017.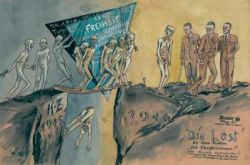 Back