"…life is futile without friendship"
"…life is futile without friendship"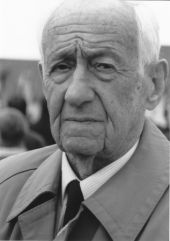 On Wednesday, February 29, 2012 the Memorial
Site will mark the 100th birthday of Eugen Kessler, a former Dachau
concentration camp prisoner, by holding a function in his honor. The event is
scheduled to begin at 7 pm in the Visitors' Center. Admission is free and no
prior registration is required.
After an official welcome and introduction by
Dr. Gabriele Hammermann, the Memorial Site director, Dr. Jürgen Müller-Hohagen
will speak about Eugen Kessler as a private person. This will be followed by
Ernst Antoni paying tribute to Eugen Kessler's political commitment. Video
excerpts of an interview Eugen Kessler gave in 1995 will round off the evening.
Born in 1912, Eugen Kessler was accused of
distributing banned Communist Party pamphlets in 1935 and put under so-called
protective custody by the Gestapo. A few weeks later he was transferred to the Dachau concentration
camp. The degrading arrivals procedure left an indelible impression on him. In
contrast to this ordeal, he considered the solidarity amongst Communist
prisoners to have greatly tempered the otherwise severe conditions of
imprisonment. In October 1937 Kessler was released from the Dachau concentration camp, and following the
outbreak of the war he was drafted into the German Army in the fall of 1939. In
February 1945 he defected to the Red Army. At the beginning of 1949 he returned
to Germany
and was active until his death in 1999 in the "Vereinigung der Verfolgten des
Naziregimes" as well as the "Lagergemeinschaft Dachau".
Back