Architecture prize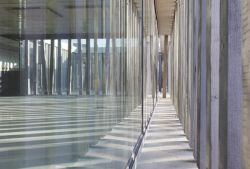 The firm Florian Nagler
Architects from Munich will be awarded this
year's German Architecture Prize in mid-October for the Dachau Memorial Site's Visitor Center completed in 2009. Only last year
the firm was awarded the Bavarian Architecture Prize for this project, while it
is currently supervising the revamping of the Memorial Site's administration
section, archive, and library. The renovations to the eastern wing of the
former maintenance building will be completed by the end of the year.
Back