Nine new audio stations in the museum
Nine new audio stations in the museum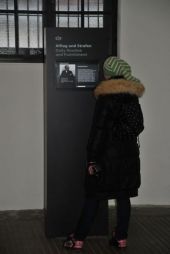 As of December 2011 visitors to the Dachau
Memorial Site can take advantage of nine new audio stations in the exhibition.
With the aid of interview sequences and quotations from prisoner accounts,
these stations enable visitors to find out more about the history of the Dachau concentration camp
from the perspective of the inmates. Former prisoners speak about themes such
as work and everyday life in the camp, the composition of the prisoner society,
about the situation in the subcamps, as well as the period shortly before their
liberation. Twenty-three former prisoners can be heard, amongst them Hans Kaltenbacher,
Franz Olah, Karel Kašák, Hermann Scheipers, Zygmund
Razniewsky, and Ladislaus Ervin-Deutsch. In addition, short biographical
information and photographs of the interviewees can be accessed. The audio
stations were created in collaboration with the Büro Müller-Rieger (graphics)
and P.medien (hard- and software).
Back