Questions our visitors frequently ask
Questions our visitors frequently ask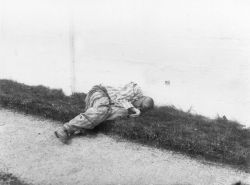 Question:
Is it true that some prisoners
succeeding in escaping from the Dachau
concentration camp?
Answer:
Up until 1939 escape attempts were
very rare, every successful escape had to be reported directly to Himmler and
the Inspectorate of the Concentration Camps. The only escape attempt from the
main Dachau
camp where the fugitive could not be recaptured was managed by Hans Beimler in
1933. Under Camp Commandant Hans Loritz (1936-1939) there were two cases of
prisoners escaping, but they were apprehended again: Mathias Neumeyer from Munich in 1937 and Louis Übrig
from Saint Gallen in 1939. In the later years of the war escapes were more
frequent from the external work details and the subcamps of the Dachau concentration
camp. In the prisoner databank of the Memorial Site archive there are a total
of 582 entries bearing the remark that the prisoner escaped; it cannot be
definitively clarified in every case if the escapee was recaptured.
Two other escapes from the Dachau concentration camp of greater
historical significance took place shortly before liberation: a group of 15
concentration camp prisoners succeeded in escaping on April 27, 1945. The
prisoners joined the resistance fighters in the town of Dachau, occupying the town hall on April 28,
1945 with the aim of securing a peaceful handover of the town to the US Army.
SS men violently quelled the uprising. The second escape was managed by the
prisoner Karl Riemer on April 28, 1945. By the next day he had reached
Pfaffenhofen where he informed the US Army about conditions in the camp and so
ensured its prompt liberation.
Separate consideration has to be given to those
escape attempts staged by the SS. Amongst the early dead in the Dachau camp and above all
in the years 1941/42 are numerous prisoners who were allegedly shot while
trying to escape; in truth however they were deliberately murdered by the SS
guards.
Back