9th Dachau Contemporary Witness Discussion with Boris Pahor
9th Dachau Contemporary Witness Discussion with Boris Pahor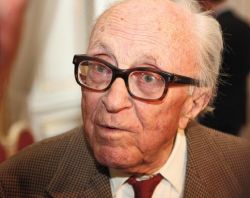 In cooperation with the
Bavarian-Slovenian Society, the Memorial Site has continued its series of
discussions with contemporary witnesses on Tuesday, November 6, 2012. The guest
for this round was the well-known Slovenian writer Boris Pahor.
A winner of many literary
awards, Boris Pahor was born in Trieste in 1913,
at the time part of the Austro-Hungarian administrative area of Primorska and
occupied by Italy
in 1919. After attending a Slovenian primary school Pahor is forbidden to speak
his mother tongue due to restrictions imposed under Mussolini. In 1935 he
begins to study Catholic theology, leaves the seminary however in 1940 and is
drafted into the Italian Army. At his own request he serves in Libya for a year, before returning to Italy to study literature at Padua
and working as an interpreter for imprisoned Yugoslav officers at Lake Garda.
Following the collapse of
Italian Fascism Pahor returns to Trieste
in September 1943 and at the beginning of November joins the Slovene partisan
movement. On January 21 1944 he is arrested by the "Domobranzen", the Slovene
Home Guard, who hand him over to the Gestapo. He is deported to the Dachau concentration
camp. By the end of the war Boris Pahor is imprisoned in four different
concentration camps, finally liberated at Bergen-Belsen.
Eventually returning to Trieste he studies and completes a doctorate in Padua, before teaching at a Slovenian school in Trieste from 1953 to
1975. He tries to come to grips with his traumatic experiences in the concentration
camps in novellas, out of which his award-winning novel Pilgrim among the Shadows emerges, first published in 1967. Boris
Pahor has written numerous stories and novels, including the autobiographical
novel Villa am See (German title,
1955) and A Difficult Spring (1958).
In 2010 a documentary film entitled Stubborn Memory was made on his life.
Boris Pahor is regarded as one of the most internationally known
representatives of critical Slovene contemporary literature. His reflective
narratives recall the work of Primo Levi, Jorge Semprún and Imre Kertész. He
lives near Trieste.
Back