Award for the Visitors' Center at the German Architecture Prize 2011
Award for the Visitors' Center at the German Architecture Prize 2011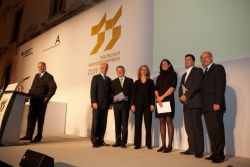 On October 13, 2011, the German Architecture Prize
awards ceremony was held in Dresden's Albertinum. The main award was won by Sir
David Chipperfield for his rebuilding of the Neues Museum in Berlin. One of the
five awards for "outstanding building culture in Germany" went to Florian
Nagler Architects GmbH for the Visitors' Center at the Dachau Concentration
Camp Memorial Site. Federal Minister Dr. Peter Ramsauer presented the award to
the architects and the principals, Karl Freller, Director of the Stiftung
Bayerische Gedenkstätten, and Dr. Gabriele Hammermann, Director of the Dachau
Concentration Camp Memorial Site. Florian Nagler had promised not to construct
a building, but rather create a place that integrates unobtrusively into its
surrounds. His concept was convincing from the outset. Florian Nagler also
expressed his delight in being able to have kept his promise and thanked the
involved institutions, in particular the Freising Building Authority who
accompanied the work. The project was initiated by the former Stiftung
director, Professor Dr. Andreas Heldrich, and Dr. Barbara Distel, former
director of the Dachau Memorial Site, both of whom went to great efforts to
ensure worthy financing.
Florian Nagler and his team of architects are
currently restoring the rooms located in the east wing of the historical
maintenance building which house the archive, library, and administration
offices. Aside from minor renovations since 1965, these rooms have hardly
changed. The inbuilt fixtures and alterations from the last forty years are
being stripped back, the heritage-protected building returned to its basic
structure and the architectural remnants once again made visible.
Back