Book presentation by Kerstin Schwenke on "Remembrance Culture in Dachau"
Book presentation by Kerstin Schwenke on "Remembrance Culture in Dachau"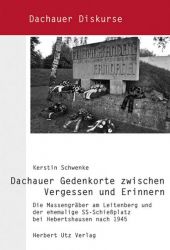 Due to the overwhelming interest, more chairs had to
be fetched in the Church of Reconciliation on December 1, 2011 as Kerstin
Schwenke presented her book Erinnerungskultur
in Dachau – Der
Umgang mit den Massengräbern am Leitenberg und dem ehemaligen Schießplatz bei
Hebertshausen nach 1945.
The study by the historian and staff member of the
Dachau Memorial Site is published in the "Dachauer Diskurse" series, edited by
Dr. Bernhard Schoßig and Dr. Robert Sigel. It was thus fitting that Dr. Schoßig
gave a brief introduction to open the presentation after the gathered visitors
had been welcomed by Klaus Schultz, deacon of the Church of Reconciliation.
Dr. Gabriele Hammermann, director of the Memorial
Site, emphasized just how important this study by Kerstin Schwenke is, for the
mass graves on the Leitenberg and the shooting range near Hebertshausen have
hitherto been neglected in contemporary research.
Back