Conference of archive and databank staff in October 2013 in Dachau
Conference of archive and databank staff in October 2013 in Dachau
Held annually for the last 15 years, this
international workshop is for staff working with databanks – in particular for
gathering data on the victims of National Socialism – in memorial sites and
archives. After a break of 13 years Dachau
once again hosted the conference. The archivist Albert Knoll organized the
conference and oversaw its running.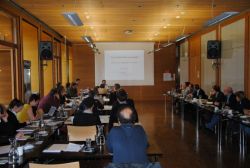 On Wednesday, October 23, the participants took part
in a tour of the Memorial Site, while the actual conference was held on October
24 and 25 in the Jugendgästehaus in Dachau.
In the first of fourteen talks, Albert Knoll presented the Memorial Site's prisoner
database. In 2010 this was converted into an individual, web-based relational
system that is optimally tailored to the needs of the Memorial Site.
Representatives from memorial sites and other
institutions from seven different countries took part in this year's
conference. Those from Germany
were joined in Dachau by colleagues from the Czech Republic,
Israel, Poland, Austria,
Lithuania, and the Netherlands.
The presentations and
numerous discussions initiated a fruitful exchange amongst the some 40 participants
on technological questions, the content of databanks as well as the storage of
source materials. Besides the tour of the Memorial Site, the participants
visited the former SS grounds and took part in an excursion to Munich focusing on the
Nazi history of the Bavarian capital.
Back