Conference "Redevelopment – Reconstruction – Redesign: Dealing with Historical Buildings in Memorial Sites"
Conference "Redevelopment – Reconstruction – Redesign: Dealing with Historical Buildings in Memorial Sites"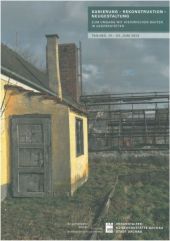 From June 1 to 3 2012 the Dachau Concentration Camp
Memorial Site staged a conference in cooperation with the City of Dachau
authority entitled "Redevelopment
– Reconstruction – Redesign: Dealing with Historical Buildings in Memorial
Sites"
Under the title of
"Redevelopment – Reconstruction – Redesign: Dealing with Historical Buildings
in Memorial Sites" a conference was staged by the Dachau Memorial Site between
June 1 and 3 where, based on discussions between experts and Dachau
citizens, various ideas were developed for the future layout and use of the
land of the former "herb garden".
Beginning in 1938 Dachau concentration camp prisoners
were forced to build a large maintenance building and prepare agricultural
plots to the east of the preventive custody camp. Known as the "herb garden",
this area was a key component in the SS enterprise "Deutsche Versuchsanstalt
für Ernährung und Verpflegung" (DVA) and integral to the autarchy policy of the
Nazis. The assigned work detail, coined the "plantation", became notorious:
hundreds of prisoners lost their lives here between 1940 and 1942. Today the
grounds are largely built over. The central ensemble of buildings, listed for
preservation, has survived almost unaltered. If they remain unused however,
then they are threatened with dereliction. Presentations given by scholars and
directors from other memorial sites showed that this is no isolated case. They
emphasized the historical significance of the ensemble. The ideas discussed
centered on the documentary and memorial use of the grounds with an exhibition
depicting the history of the site and seminar rooms for the Memorial Site's
educational work. The outside areas could still be used by the municipal
nursery. The experts rejected the idea of realizing an intercultural garden on
the grounds, stating that such a location with its history of terror was
extremely unsuited for such a project.
Back