Exhibition: Another View – Vlasto Kopàč and his drawings of the Dachau concentration camp
Exhibition: Another View – Vlasto Kopàč and his drawings of the Dachau concentration camp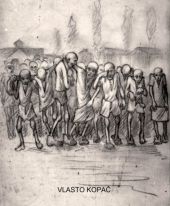 In the National
Museum for Contemporary History in Ljubljana there are some 80 postcard-sized drawings
capturing scenes from life in the Dachau
concentration camp. The works by the Slovenian architect Vlasto Kopàč (1913-2006)
are unique documents of the concentration camp from the years 1944/45. They
show torture, repression, and everyday life and death in the camp. Planned for
spring/summer 2012 this exhibition will feature thirty of these original
drawings, which will be scholarly researched and presented especially for the
occasion.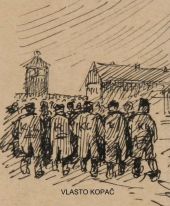 Vlasto Kopàč was close to the Communists and
following the occupation of Slovenia
he worked for the resistance. He was arrested in October 1943 and sent to the Dachau concentration camp
in January 1944. After liberation Kopàč returned to Yugoslavia,
but once again was subject to persecution just a few years later as a defendant
in the so-called Dachau Trials in Ljubljana,
where he was convicted.
Organizer: Dachau
Concentration Camp
Memorial Site
Curator of the exhibition, commissioned by the
Memorial Site: Dr. Michaela Haibl in cooperation with the Muzej novejše
zgdovina, Ljubljana
Exhibition location and dates: the Dachau
Concentration Camp Memorial Site: April 27 to September, 2012
A catalogue will be published in conjunction
with the exhibition opening.
The exhibition is financially supported by the
Department of Arts and Culture of the City of Munich authority.
Back