Catalog presentation and showing of the film "Das Mahnmal von Nandor Glid in Dachau"
Catalog presentation and showing of the film "Das Mahnmal von Nandor Glid in Dachau"
Helmut Meewes recounted the story behind his film in detail with Dr
Andrea Riedle. He spoke of his childhood in the Second World War and his
experiences as a forced laborer in a Czech mine. These were formative for his
interest in the history of the concentration camps.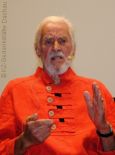 In the 1960s Helmut Meewes shot several films in Yugoslavia. He met
Nandor Glid at Belgrade's Press Club, which he describes as a "haven for
freedom of expression" at the time. The sculptor, who had lost his parents in
Auschwitz, invited Meewes to his studio where he showed him a model of the
sculpture for the International Monument. Helmut Meewes was so impressed that
the idea to make a film about the Monument struck him right there and then
while in the studio.
Although unable to find any financial backing, he nevertheless decided to
go ahead with the project, funding it privately.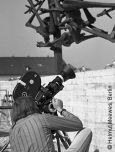 Helmut Meewes filmed at both the Dachau Memorial Site and Nandor Glid's
studio. The director characterized Nandor Glid as an impressive artist who was
"obsessed" with his work. For him, Glid was international in his orientation
and a cosmopolite in his views but at the same time a down-to-earth man who
needed the private sphere of his family for his work.
Unfortunately, not only
the lack of financial support but also the low number of screenings reflected
the lack of interest in coming to terms with the Nazi past that was so
prevalent in the 1970s. The film was shown only once on public Bavarian
television and then again at the Cracow Film Festival. And at that time –
unlike today – there were very few films about concentration camps, memorial
sites, and monuments. Helmut Meewes very much regretted the lack of attention
paid to his film, and for this reason he was all the more delighted that it
could be shown once again, 46 years after its making.
Back