Dachau contemporary witness talk with Maurice Cling
Dachau contemporary witness talk with Maurice Cling
Maurice Cling told the audience about the very sheltered childhood he
enjoyed growing up in a Jewish family in Paris. Even after the German Army
occupied the city he was not aware of any grave danger. The situation changed dramatically
in May 1944 – his family was arrested and deported to the Drancy transit camp.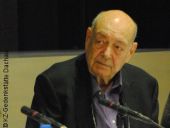 Maurice Cling was only 15 as he was transported with his family from
Drancy to the extermination camp at Auschwitz. The SS classified him as capable
of work. In contrast, his brother and parents were 'selected' and murdered.
Maurice Cling tells that he most certainly would not have survived the
extremely hard work done every single day in combination with malnutrition if
it had not been for the help he received from resistance fighters. Polish and
French fellow prisoners protected him, hiding him in the sickbay barrack.

One of his worst experiences was the death march and evacuation
transports from the Auschwitz extermination camp to the Dachau concentration
camp. Although the Red Army were practically at the gates of the town, he was
forced to march on through the snow and cold under the gunfire of the SS
guards. Arriving at the Groß-Rosen concentration camp, the prisoners were then
loaded onto open freight cars. They were told to simply throw out anyone who
had died during the journey. Completely exhausted, Maurice Cling arrived at the
Dachau concentration camp in January 1945. He was registered as a painter but
was far too weak to work. Again he was helped by a French resistance fighter,
who also told him about the goals of the Résistance.
Maurice Cling emphasizes how vital this help was for his survival, not least
because he meanwhile had contracted typhus.
From Dachau he was then finally forced on a second death march. "Anyone
who couldn't walk was simply shot", he said. Maurice Cling was liberated by
American soldiers in Tyrol at the beginning of 1945.
In the discussion with the audience that took place after the talk,
Maurice Cling answered a number of questions, adding lots of detail. He also
told about his two of his sons, who are making a film about his family history. The
first part is complete, the second is to follow soon.
Back