Public transportation
Traveling from Munich, the easiest way to reach the Memorial Site is by public transport. Take the S2 train from Munich in the direction of Dachau/Petershausen until you reach the Dachau station. The train ride takes approximately 25 minutes from Munich's Central Station (Hauptbahnhof).
Once you have arrived at the Dachau train station, take bus 726 towards "Saubachsiedlung" to the entrance of the Memorial Site (stop: "KZ-Gedenkstätte").
For help planning your route via public transportation, visit the MVV (Munich Transport and Tariff Association) website's useful itinerary planner.
For using the S-Bahn from Munich it is advisable to purchase a single (or partner) day ticket "Munich-M1". It covers the S-Bahn from Munich Central Station to Dachau and the bus in Dachau to the Memorial Site. Automated machines are available for purchasing tickets. For more details please check the MVV München Homepage.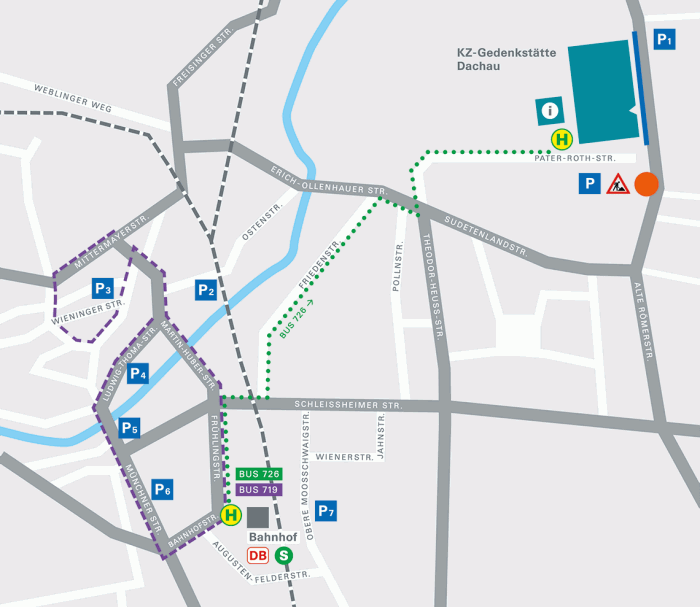 Arriving by car
Dachau is connected to the following highways:
A8 Stuttgart-München (Stuttgart-Munich) to the Dachau-Fürstenfeldbruck exit, then B471 towards Dachau to the Dachau-Ost exit.
A9 Nürnberg-München (Nuremberg–Munich) to the Neufahrn interchange, then A92 towards Stuttgart the Oberschleißheim/Dachau exit, then B471 towards Dachau (exit Dachau-Ost).
From Munich: A9 (Nuremberg) then A99 to the Feldmoching interchange, then A92 to the Oberschleißheim/Dachau exit, then B471 towards Dachau (exit Dachau-Ost).
The Memorial Site is in the part of town called Dachau-Ost and directions are well marked with signs.
Parking area
The parking area is located next to the Memorial Site at Alte Römerstraße 73.
If you prefer to travel to the Memorial Site by car, please note that parking fees are €3.00 per car and €5.00 for buses.
Please note that we do not accept any credit card.
Address
Parking area of the Memorial Site
Dachau Concentration Camp Memorial Site
Alte Römerstraße 73
85221 Dachau
Germany
Visitors' Center, Information and Entrance to the Memorial Site
Visitors' Center Dachau Concentration Camp Memorial Site
Pater-Roth-Str. 2a
85221 Dachau
Germany