Training and licensing courses
Between 1933 and 1945, over 200,000 people from all over Europe were imprisoned in the Dachau concentration camp and its numerous satellite camps. 41,500 died or were murdered here. Today, over 900,000 people visit the concentration camp memorial site every year.
The education and training of international tour guides is an essential function of the Dachau memorial site. The various tours, workshops, and seminars that the guides offer are essential to the educational work of the memorial.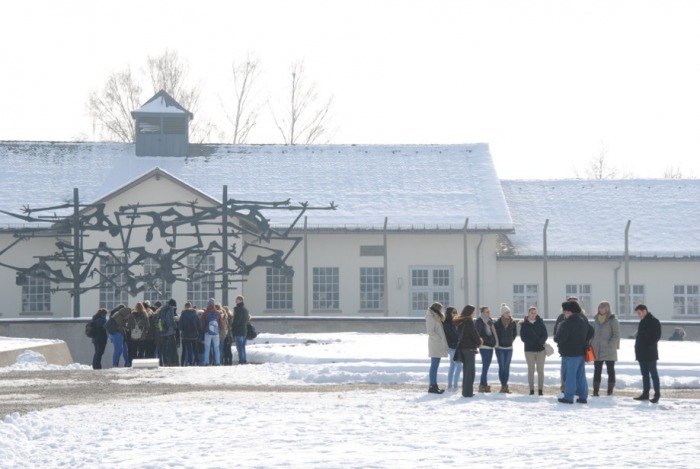 For those who are interested, regularly scheduled licensing and training courses for tour guides are offered by the Dachauer Forum e.V., the Max Mannheimer Haus Dachau and the Education Department of the Dachau Concentration Camp Memorial Site, which will enable participants to conduct tours for groups around the grounds and through the exhibition of the Dachau Concentration Camp Memorial Site.
Successful participation in the training and licensing course is a basic requirement for any tour of the Dachau Concentration Camp Memorial Site. This applies to commercial providers / tour guides as well as to freelancers or part-time tour guides employed by the memorial site or its cooperation partners.
Successful participation in the course is not a guarantee for a contract or employment, but enables you to apply as a tour guide with one of the organisations mentioned.
A new course starts Fall, 2022 - the application phase starts now
Are you interested in contemporary history and politics?
Are you interested in dealing with historical and current forms of anti-Semitism, racism, exclusion and discrimination?
Are you willing to work on your own attitudes and opinions?
Can you imagine developing your own tour of the history of the Dachau concentration camp?
Are you prepared to independently prepare and follow up on the course dates?
Do you enjoy working with different groups?
Would you like to work at an international memorial and educational site?
If so, then apply now!
We are looking forward to your application!