Newsletter Issue 4, Fall 2012
Newsletter Issue 4, Fall 2012
If the content is not displayed properly, please click
here
Introduction
Dear Ladies and
Gentlemen,
I'm pleased to be able to present another issue of our Newsletter, which
provides you with an overview of our general work as well as current projects
and events.
I am afraid that I have to
begin with very sad news. Many loyal companions and supporters of the Dachau
Concentration Camp Memorial Site have unfortunately left us in recent months.
We are dismayed at the news that the longstanding President and Honorary Chairman
of the Comité International de Dachau, General André Delpech, passed away on
July 18, 2012, at the age of 87. He guided the fortunes of the Comité from 1991
through to 2006 and with great dedication and commitment was deeply involved in
all of the key discussions on the redevelopment of the Dachau Memorial Site.
The opening of the historical entrance via the Jourhaus could never have been
realized without his persistence and willingness to argue the case. A member of
the Résistance and survivor of the Dachau
concentration camp, he was passionate about presenting and passing on the
legacy of the survivors to following generations and firmly believed in the
idea of a united Europe. His passing leaves a
huge void in the lives of everyone fortunate enough to have known him.
From amongst our events I
would like to highlight the conference "Redevelopment – Reconstruction –
Redesign: Dealing with Historical Buildings in Memorial Sites". Drawing on the
expertise and discussion between specialists and Dachau citizens a host of new ideas were
developed for redesigning and utilizing the fallow area of the former "herb
garden". In their presentations scholars and directors of other memorial sites
underscored the worth of the herb garden ensemble as a memorial. According to
the recommendations, attention should focus on the documentary and memorial use
of the grounds, featuring an exhibition on the history of the site and seminar
rooms for the Memorial Site's educational work. The task now is to take up the
momentum from the conference and develop specific concepts for its further use.
The next issue of our
Newsletter will be presented in early 2013.
With best wishes,
Gabriele Hammermann
Coming dates
Thematic tours and excursions
In addition to the regular tours, every month the Education Department of the Memorial Site offers tours and excursions focusing on specific themes. • Saturday, Feb 18, 2012: The Memorial Site's permanent exhibition – curator tour. • Saturday, March 10, 2012: Women in the Dachau concentration camp • Saturday, April 14, 2012: Prisoner groups in the Dachau concentration ...read more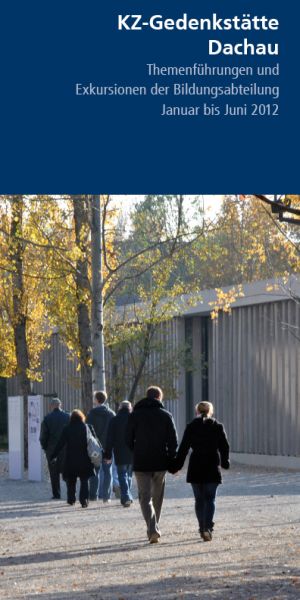 Book presentation: a new edition of Hans Beimler's Im Mörderlager Dachau
We are delighted that Friedbert Mühldorfer will present his new edition of Hans Beimler's Im Mörderlager Dachau in the Dachau Memorial Site on Wednesday, November 28. Hans Beimler, a key figure in the South Bavaria branch of the German Communist Party, was sent to the newly setup Dachau concentration ...read more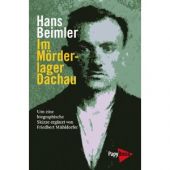 Film screenings as part of the series "Das wirst du nie verstehen"
Further screenings in the series "Das wirst du nie verstehen", a cooperation with the Munich Film Museum and Max Mannheimer Study Center at the Munich Film Museum: • Sunday, Jan 20 2013: Gerdas Schweigen • Sunday, Feb 10 2013: Winterkinder – die schweigende Generation Screenings begin at 5:30 pm; tickets cost 4 Euros (3 ...read more
Reports
Conference "Redevelopment – Reconstruction – Redesign: Dealing with Historical Buildings in Memorial Sites"
From June 1 to 3 2012 the Dachau Concentration Camp Memorial Site staged a conference in cooperation with the City of Dachau authority entitled "Redevelopment – Reconstruction – Redesign: Dealing with Historical Buildings in Memorial Sites" Under the title of "Redevelopment – Reconstruction – Redesign: Dealing with Historical Buildings in Memorial Sites" ...read more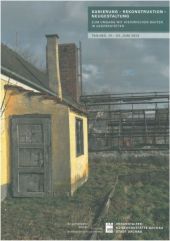 7th Dachau Contemporary Witness Discussion with Izhak Akermann
Ehemaliger Kräutergarten On June 20 before an interested audience Izhak Akermann told the story of his persecuted past, an account that lasted almost two hours. Izhak Akermann was born at the end of 1927 in Danzig to Polish-Jewish parents. Sent to the Radom ghetto shortly after the outbreak of the war, ...read more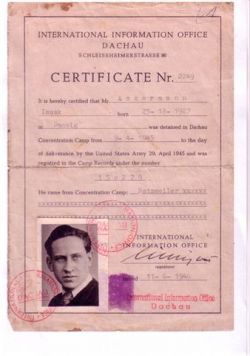 Book presentation: annotated new edition of Rudolf Kalmar's Zeit ohne Gnade
Ehemaliger Kräutergarten Following an invitation by the Memorial Site, on Wednesday July 11, the Austrian literary scholars Stefan Maurer and Martin Wedl presented their annotated new edition of Zeit ohne Gnade, a work first published in 1946. The author Rudolf Kalmar, an Austrian journalist, was deported to the Dachau concentration camp ...read more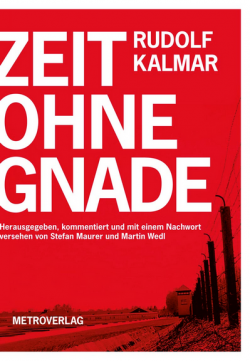 Start of the film series "Das wirst du nie verstehen"
The film series "Das wirst du nie verstehen" was launched on Sunday, September 23. In cooperation with the Film Museum Munich and the Max Mannheimer Study Center, the documentary Was bleibt from 2008 was screened. The documentary Was bleibt from 2008 explores family entanglements in the Holocaust, from both ...read more
8th Dachau Contemporary Witness Discussion with Riccardo Goruppi
The Italian contemporary witness Riccardo Goruppi was the guest of the Dachau Concentration Camp on September 26. An audience of 80 gathered to hear more about Riccardo Goruppi's life story. Riccardo Goruppi is born in January 1927 in Prosecco near Trieste. As German troops occupy Italy in September 1943 he ...read more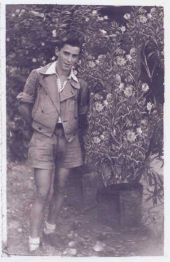 2nd Film screening as part of the series "Das wirst du nie verstehen"
The documentary 2 or 3 Things I Know About Him (2005) was screened at the Munich Film Museum on Sunday, October 28 2012. Hanns Elard Ludin was already a well-known figure in the Weimar Republic, conspiring as young Reichswehr officer with Hitler. After 1933 he quickly rose to the post of ...read more
9th Dachau Contemporary Witness Discussion with Boris Pahor
In cooperation with the Bavarian-Slovenian Society, the Memorial Site has continued its series of discussions with contemporary witnesses on Tuesday, November 6, 2012. The guest for this round was the well-known Slovenian writer Boris Pahor. A winner of many literary awards, Boris Pahor was born in Trieste in 1913, at the ...read more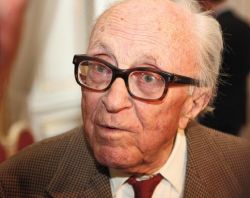 3. Film screening as part of the series "Das wirst du nie verstehen"
The film Das wirst du nie verstehen (2003) was screened at the Munich Film Museum on Sunday, November 25, 2012. In her film Anja Salomonowitz portrays three women from her family who were key figures in her upbringing. During the Nazi era all three were still girls; today, they tell ...read more
News